Environmental stewardship is an important component of our practice and our culture. We are proud of our track record with developing and implementing sustainable business practices in our offices.
Commitment to Sustainability
At Manko, Gold, Katcher & Fox, LLP (MGKF), our commitment to sustainability is demonstrated in our professional practice, in our community leadership, and in the guidance we provide to our clients. As an environmental, energy and land use law practice, we have long been committed to providing the highest quality legal services to our clients, while also acting as responsible stewards for the environment. Although the term sustainability has only been popularized in recent years, the concept has been part of our firm culture since its inception more than 30 years ago. In the area of energy savings, for example, when the U.S. EPA launched its Green Lights program in the early 1990s, we enrolled and retrofitted our lighting fixtures with energy-efficient, low-mercury compact fluorescent bulbs and installed occupancy sensors. Today, sustainable features are found throughout our new office space. We also implement a formal Sustainability Policy and adopted the model American Bar Association policy to further our commitment.
When MGKF relocated its Bala Cynwyd headquarters office from the fifth to the ninth floor of 401 City Avenue, it used the US Green Building Council's Leadership in Energy and Environmental Design (LEED) Green Building Rating System as a guide for sustainable design and construction. MGKF's commercial interior buildout project achieved the prestigious LEED Gold® certification under the LEED Green Building Rating System for Interior Design and Construction: Commercial Interiors (LEED® ID+C: Commercial Interiors). MGKF is the first law firm in the Philadelphia region to achieve Gold level certification under LEED for Commercial Interiors for its office space. For more details, see our case study and tour booklet.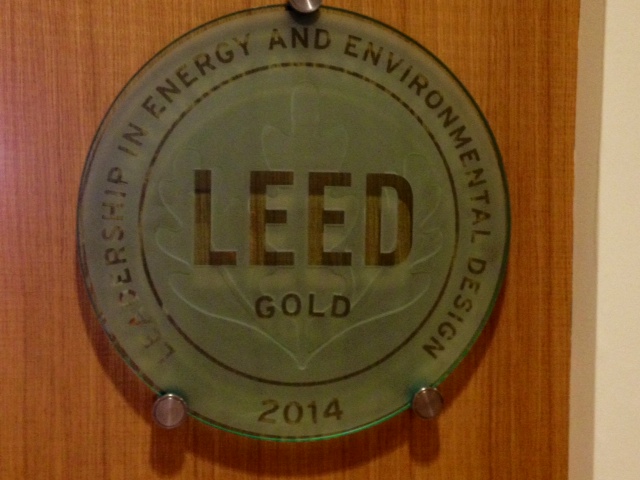 We also participate in the Pennsylvania Bar Association's (PBA) Pennsylvania Lawyers United for Sustainability (PLUS) Program. The PLUS Program affords both private- and public-sector attorneys an opportunity to demonstrate their commitment to environmental sustainability in their professional practices. We are proud to be the recipient of the First Annual Law Office Sustainability Program Award for the fitout of our new office suite--for its sustainable design and construction and sustainable choices for energy and water efficiencies, improved indoor air quality and local sourcing. MGKF is also a member of the Law Firm Sustainability Network and the New Jersey WasteWise Business Network.
Photo ©2013 Avi Loren Fox Photography