These updates have been prepared and published for informational purposes only and do not constitute legal advice. This information is not intended to create, and receipt of it does not constitute, a lawyer-client relationship. May contain attorney advertising under the rules of some states.


Join our mailing list for the latest environmental and energy news and updates.
Manko, Gold, Katcher & Fox Briefings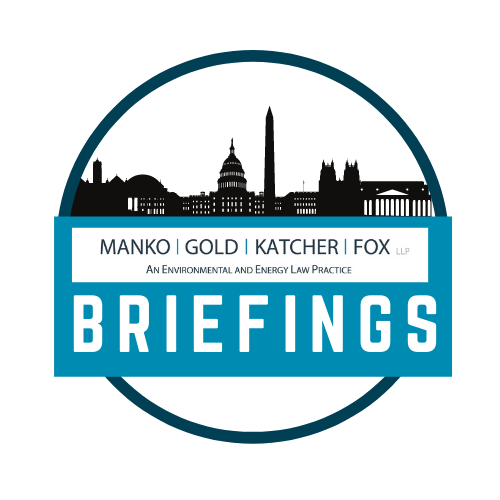 Manko, Gold, Katcher & Fox video briefings updates:

October 4, 2021 Briefing
Vapor Intrusion with Matthew C. Sullivan and Senior Technical Consultant Darryl D. Borrelli

June 8, 2021 Briefing
Environmental Justice with Bruce S. Katcher, Zachary Koslap and Technical Consultant Will Hitchcock

April 15, 2021 Briefing
Sustainability Reporting with Brenda H. Gotanda, LEED AP and Bryan P. Franey

Read Brenda Gotanda's latest article in The Legal Intelligencer, "Sustainability Reporting - Today's Top Three Trends".

March 24, 2021 Client Webinar
Manko, Gold, Katcher & Fox discusses some of the key environmental and energy policies to watch in 2021 driven by the Biden Administration transition.

Full program - Broken down by topic area and speakers below.
Introduction and Climate Change with MGKF Managing Partner Carol F. McCabe

Environmental Justice with Jill Hyman Kaplan

Brownfields Redevelopment with Jonathan H. Spergel

Superfund with Robert D. Fox

Enforcement with Carol F. McCabe

Litigation with Kathleen Campbell

Q&A Session