Manko, Gold, Katcher & Fox COVID-19 Resources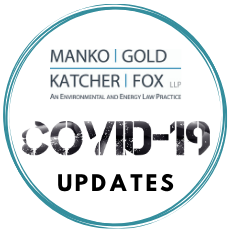 Welcome to our COVID-19 resource page. Here you will find links to articles prepared by firm lawyers that address a variety of legal issues that have arisen since the onset of the COVID-19 pandemic in the environmental, land use, energy and worker health and safety contexts. We have not attempted to cover all issues that may arise, but rather have tried to address specific issues of concern to our clients. We intend to update the list of articles on an ongoing basis. If you have any suggestions for additional articles, please let us know.
In addition to the resources available in these articles, many state environmental agencies, the federal Environmental Protection Agency and the federal Occupational and Health Administration maintain their own COVID-19 information pages. We have included links to some of those pages in the sidebar of this page. Because these agencies are critical to public health and safety, they are continuing to operate; however, the employees of many agencies are subject to stay-at-home orders or policies and are working at home. It has been our experience that many of them are available via email or will call you back if you leave a voicemail.


MANKO COVID-19 Related Alerts

NJDEP Extends Site Remediation Program Timeframes and May 7, 2021 RA Deadline
February 9, 2021
NJDEP Publishes Notice to Register Permits and Approvals to Trigger Extension Under the 2020 Permit Extension Act
September 10, 2020

PADEP Develops COVID-19 Guidance
August 25, 2020
[Updated August 25, 2020]

NJDEP Extends Certain Site Remediation Deadlines 270 Days
August 20, 2020
NJDEP Schedules Public Hearing, Finalizes Comment Due Date for Proposed Revisions to Soil Remediation Standards; Leaves Site Remediation Fees Unchanged for FY2021
July 6, 2020
New Jersey Enacts Permit Extension Act of 2020 to Incorporate Changes Sought in Governor's Conditional Veto
July 1, 2020
COVID-19: OSHA Reversal on Recordkeeping and President's Executive Order on Enforcement Discretion
May 21, 2020
COVID-19 Response: Uncertain Impact of Stay-at-Home Orders on Environmental Remediation Sites and Environmental Consultants and Contractors
[Last updated on Tuesday, May 19, 2020 to reflect updates to various state orders.]

New Jersey Legislature Passes Bill to Extend Permits and Approvals Because of COVID-19 Conditions
May 18, 2020
NJDEP Commissioner McCabe Orders Extension of Regulatory Public Comment Periods
May 12, 2020
Governor Murphy Issues Executive Order 136 Extending NJDEP Statutory Timeframes for Certain Land Use Permits, Utility Reviews, Recycling and E-Waste Reporting
May 4, 2020
NJDEP Extends Site Remediation Program Deadlines During COVID-19 Emergency and Clarifies Remediation is "Essential Construction"
April 27, 2020
NJDEP Issues General Environmental Compliance and Enforcement Alert
April 23, 2020
NJDEP Modifies Regulated Waste Rules Due To COVID-19 Crisis
updated April 22, 2020

NJDEP Rejects EPA COVID-19 Enforcement Policy for NJPDES Program
April 20, 2020
Philadelphia Granting COVID-19 Extensions to 2020 Compliance Deadline for Building Benchmarking – But You Must Apply!
April 16, 2020
OSHA & PA Dept. of Health Issue Additional COVID-19 Guidance/Order
April 16, 2020
[OSHA reversed their April 10 Guidance on May 19, 2020. See our May 21 Alert for the latest information specific to this].

EPA Issues Interim Guidance on Site Field Work Decisions at Superfund and RCRA Sites in Light of COVID-19 Emergency
April 10, 2020
Environmental Regulatory Implications of New Jersey Executive Order (EO) 122 Halting All Non-Essential Construction
April 10, 2020

Summary of EPA COVID-19 Enforcement Policy
April 2, 2020