NJDEP Establishes Interim Soil Remediation Standards for PFNA, PFOA, PFOS, and GenX
October 17, 2022
Thomas M. Duncan, Esq. and Michael C. Nines, P.E., LEED AP, Technical Consultant
MGKF Special Alert
On October 17, 2022, the New Jersey Department of Environmental Protection (NJDEP) issued a public notice in the New Jersey Register establishing interim soil remediation standards (SRSs) for the ingestion-dermal exposure pathway for perfluorononanoic acid (PFNA), perfluorooctanoic acid (PFOA), perfluorooctane sulfonate (PFOS), and hexafluoropropylene oxide dimer acid and its ammonium salt (GenX). NJDEP also established interim soil leachate remediation standards for the migration to groundwater exposure pathway for PFNA, PFOA, and PFOS. These standards are summarized in the table below. These new interim standards are effectively immediately, beginning today. NJDEP did not provide a phase-in period.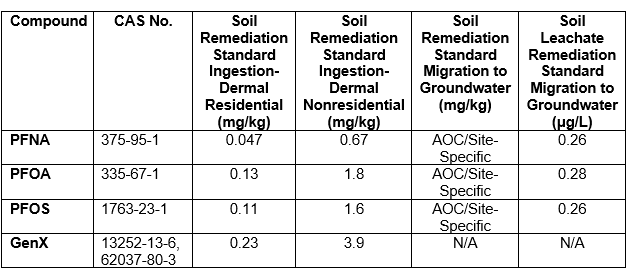 The interim SRSs are intended to be protective for chronic (lifetime) exposures to contaminated soils and acknowledge that concurrent exposure occurs via the two pathways (ingestion and dermal) through gardening, landscaping, and excavation by adults and through children's outdoor play.
NJDEP did not establish interim SRSs for the inhalation exposure pathway, citing limited inhalation toxicity information and inadequate chemical properties information. NJDEP also did not establish interim generic SRSs for the migration to groundwater pathway, and instead the interim SRSs will need to be calculated on an area of concern (AOC)/site-specific basis using the Synthetic Precipitation Leaching Procedure (SPLP).
NJDEP derived the interim SRSs based upon oral toxicity information for PFNA, PFOA, and PFOS from the New Jersey Drinking Water Quality Institute, which was data that also informed NJDEP's previous adoption of drinking water health-based Maximum Contaminant Levels and Ground Water Quality Standards. NJDEP obtained the oral toxicity information for GenX from the U.S. EPA. NJDEP believes that state-certified analytical laboratories have sufficient analytical sensitivity such that the interim SRSs are above the reporting limits capable by analytical laboratories.
The interim SRSs now apply to the concentrations of PFNA, PFOA, PFOS, and GenX in soil and soil leachate throughout New Jersey. At sites where these substances have been detected in excess of the interim SRSs, remediation of these contaminants would be subject to the Technical Requirements for Site Remediation, N.J.A.C. 7:26E. The interim SRSs may also be relevant in the context of transactional due diligence on a case-by-case basis.
NJDEP intends to hold a training session on the new interim SRSs on November 10, 2022.
For more information, please contact Tom Duncan at 484-430-2358 or MGKF Technical Consultant Mike Nines at 484-430-2350.