New Jersey to Remain Focused on PFAS in 2023
January 18, 2023
Nicole R. Moshang, Esq., Thomas M. Duncan, Esq., and Brandon P. Matsnev, Esq.
MGKF Special Alert - New Jersey Forecast 2023
In 2022, New Jersey advanced significant regulatory, litigation and legislative initiatives applicable to per- and polyfluoroalkyl substances (PFAS) that will carry into 2023 (and beyond). The main initiatives are addressed below.
PFAS Sampling Requirements for NJPDES Permits
Last year we reported that the New Jersey Department of Environmental Protection (NJDEP) sent PFAS Source Evaluation and Reduction Requirements Surveys to certain NJPDES permittees. Specifically, these surveys asked Category B and L NJPDES permittees to identify their use of Class B firefighting foam and of certain materials that are known to contain PFAS. NJDEP then sent follow-up Requests for Information to a group of NJPDES permittees based on responses to the initial survey, requiring the permittees to collect two effluent samples for 12 PFAS compounds at least 30 days apart and submit the data to NJDEP.
NJDEP's investigation of PFAS compounds in the state remains in full swing. On March 23, 2022, NJDEP sent additional Requests for Information, adding two compounds to the original 12, to a second group of permittees based on responses to the initial survey, with data submission due by August 5, 2022. On October 5, 2022, NJDEP sent Requests for Information to a third group of permittees, adding the GenX compounds to the 14-compound list, with data due to be submitted by February 3, 2023. Monitoring results are available on the Division of Water Quality's webpage, under the new "PFAS" tab, along with an FAQ document concerning the three Requests for Information. According to NJDEP's PFAS webpage, "in the near future, it will also be necessary to investigate to probable sources, reduce/eliminate the sources found (such as product substitution, operational controls, or treatment), and take other actions to protect surface water and sludge quality."
NJDEP Interim Soil Remediation Standards for PFNA, PFOA, PFOS, and GenX
On October 17, 2022, NJDEP issued a public notice in the New Jersey Register establishing interim soil remediation standards (SRSs) for the ingestion-dermal exposure pathway for perfluorononanoic acid (PFNA), perfluorooctanoic acid (PFOA), perfluorooctane sulfonate (PFOS), and hexafluoropropylene oxide dimer acid and its ammonium salt (GenX). NJDEP also established interim soil leachate remediation standards for the migration to groundwater exposure pathway for PFNA, PFOA, and PFOS. These standards are summarized in the table below. These new interim standards, set forth below, were effective upon publication with no phase-in period.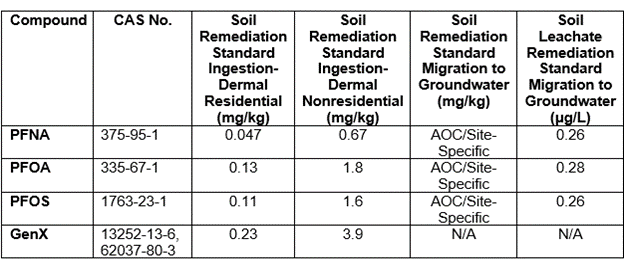 Further evaluation of the interim SRSs can be found in our Special Alert here. NJDEP held a training session on the new interim SRSs on November 10, 2022. The presentation materials can be found here, under "PFAS Interim Soil Standards."
These new standards are likely to impact many remediation projects in 2023.
NJ PFAS Litigation
We also expect that PFAS related litigation will continue to expand in 2023. A recent opinion issued by Judge Becker on December 14, 2022, in the matter of NJDEP et al., v. Solvay Specialty Polymers USA, LLC, No. G-L-1239-20, Superior Court of Gloucester County, highlights the potentially significant geographic reach and scope of future PFAS litigation in New Jersey.
In November 2020, NJDEP filed a complaint against defendants Solvay Specialty Polymers USA, LLC (Solvay) and Arkema Inc. (Arkema) (collectively defendants) seeking natural resource damages for discharges of PFAS from defendants' manufacturing facility located in West Deptford, New Jersey. NJDEP alleged that defendants discharged PFAS from their facility through air emissions, spills to soil and groundwater and direct discharges to the Delaware River, which NJDEP claimed resulted in damages to New Jersey's natural resources. Id at 2. NJDEP alleged in its complaint that defendants' contamination to the Delaware River flowed from the river through its pathways inland and thus gave rise to claims for damages to both the river itself and inland resources, however, NJDEP filed a motion to reserve adjudication of the in-river claims for another day (having filed those claims mainly to avoid running afoul of New Jersey's Entire Controversy Doctrine under R. 4:30A, which requires parties to assert all known claims as between the parties in one action) . In support of its motion, NJDEP argued that carving out and reserving the in-river claims for a subsequent action was necessary to prevent delay in the adjudication of the remediation and restoration of New Jersey's natural resources that NJDEP is obligated to protect for the benefit of state residents.
In opposition to NJDEP's motion to sever, defendants principally argued that severance of the in-river claims would be inefficient for both defendants and the judicial system. The defendants reasoned that they are entitled to seek discovery from, and to join as parties to the current case, a large number of other potentially responsible third parties, and that reserving in-river claims for later litigation will create an unnecessary duplication of effort.
The Court agreed with NJDEP and found that reserving the in-river claims for future litigation would promote judicial efficiency, fairness, and avoid the confusion and complexity that would result if the in-river claims were included in the current litigation. Id. at 2, 4-5. The Court reasoned that the geographic area in question covered three states that would likely implicate other trustees' claims, present numerous complex questions of law and fact and expand to multiple third parties in various states with alleged discharges to the Delaware River. Id. at 4.
Although the Court granted NJDEP's motion to sever, the Court noted that the parties could seek discovery regarding potential third parties and substances and indicated that defendants could seek leave to bring third parties into the current litigation if discovery revealed a connection between the third party and inland natural resource damages. Id. at 6.
While it is yet to be seen if the door has been left open to expand the litigation beyond the current parties and claims, given the large geographic area at issue, multiple pathways, and numerous potential sources of PFAS impacts, it seems almost certain that complex, multi-party PFAS litigation is on the horizon both in this case and others NJDEP may bring to address PFAS contamination in New Jersey
NJ PFAS Legislation
Concerning legislation, at this time there are six proposed bills related to PFAS. One of these, S-2712, introduced in May 2022, would ban the sale of class B firefighting foam containing intentionally added PFAS. A violation would be considered an unlawful practice under the state's Consumer Fraud Act and would subject the violator to monetary penalties, including punitive damages and treble costs. On December 15, 2022, the bill was approved by and reported out of the Senate Environment and Energy (Senate EE) Committee. It could become law in 2023, although, as currently written, it would only become effective two years after passage.
The other five proposed bills, S-3176-80 (and related Assembly bills), were part of a comprehensive PFAS legislative package introduced in October 2022 as addressed here. Only one has thus far received Senate EE Committee approval: S-3176, which would direct NJDEP to conduct a study to determine the feasibility of a uniform MCL for the entire class of PFAS compounds. It would further direct NJDEP to investigate and potentially recommend treatment technologies for PFAS. The bill was referred to the Budget and Appropriations Committee on November 3, 2022.
The remaining four bills remain under the EE Committee's consideration. S-3177 would, among other things, ban PFAS-containing cosmetics, carpet treatment products, and food packaging, and would require PFAS-containing cookware to be appropriately labeled. S-3178 would require NJDEP to assess current MCLs in place to ensure they adequately protect children, and to consider whether MCLs should be implemented for presently unregulated PFAS compounds. S-3179 would require that public water systems promptly notify residents of PFAS exceedances. Finally, S-3180 would mandate that water suppliers or purveyors proactively designate alternate water sources in the event they discover PFAS exceedances in current sources. These bills, if enacted, would create an extensive new and complex regulatory program for NJDEP to administer at substantial cost to the agency and industry.